Find what you need, fast. Deka is pleased to offer our customized application guide.
Deka Authorized Service
For over 70 years, East Penn has built their reputation on manufacturing high quality Deka batteries and offering world-class service, including regularly scheduled maintenance and emergency repair. No matter what your service needs, rely on our expertise and knowledge to optimize your fleet's performance and reduce downtime, saving you time and money.
When your batteries and battery equipment need expert service, trust in the Deka Difference to get it done.
Battery Service
When your batteries are running at their peak capacity so is your lift truck. Consistency is the key to maintaining any battery fleet, and scheduled maintenance improves life and productivity.
Our trained technicians are proficient in maintaining your batteries no matter the application. We will work together to assist and educate your entire team with the ultimate goal of saving you time and money.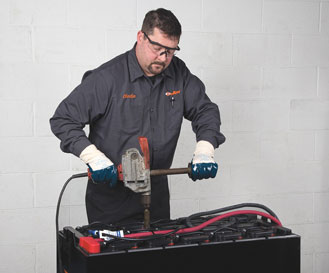 Cleaning
Our cleaning service removes battery corrosion that can potentially damage both your battery and lift truck. All work is done at your facility through our patented EPA approved mobile battery cleaning system. All wash water is treated after each cleaning to allow for safe non-hazardous disposal by our team.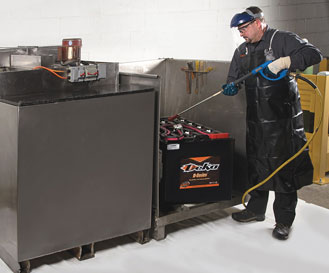 Watering
A well-watered fleet is a high performing fleet. Every flooded lift truck battery needs to be watered correctly and on a scheduled basis. We offer scheduled watering contracts to help your maintenance team and protect your assets.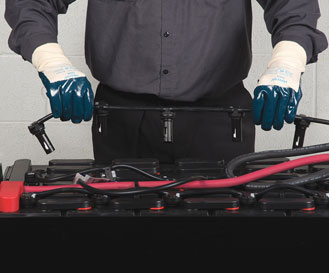 Charger Service
The most commonly overlooked equipment in your fleet is the battery charger. Proper charger maintenance is directly tied to battery performance. One of the easiest and most economical checks is a calibration. It is important to note that when working with chargers it is a high voltage device. Our technicians are highly trained and certified to stringent NFPA 70 E certification (OSHA REQUIRED) allowing them to work on and repair any brand of charger in the market today.
Handling Service
If you are operating multiple shifts, there is a very good chance that multiple batteries are used at your facility. Over time, the battery changing equipment used to facilitate that change can be subjected to some pretty rigorous treatment. Our team proactively maintains this asset, reducing emergencies that have the ability to cripple an operation. We will work with you to create the best plan including frequent inspections and a realistic spare parts inventory.